The AS Book Bank is located in the AS Annex behind Storke Tower facing away from the UCen.
Here is how our textbook and tech rental service works. If you have any further questions, feel free to reach out to us.
You can browse our entire catalog of textbooks and tech rentals at bookbankucsb.libib.com. If you are unable to find your textbook by searching the title, try using the ISBN number.
Although our system updates automatically, during the first couple days of the quarter the Book Bank receives hundreds of students. As such, sometimes students view their book online and in the time it takes to arrive to the Book Bank, their textbook will have been checked out. We recommend searching for your textbooks before the quarter starts and planning to check your book out early.
Every quarter, the Book Bank buys new textbooks as well as receives donations. We input these new textbooks int our system before the quarter starts, every quarter. If you do not view your textbook online by the first day of classes, you can fill out our request form to have us purchase your textbook for you. If you have any questions, please view or FAQ page or contact us.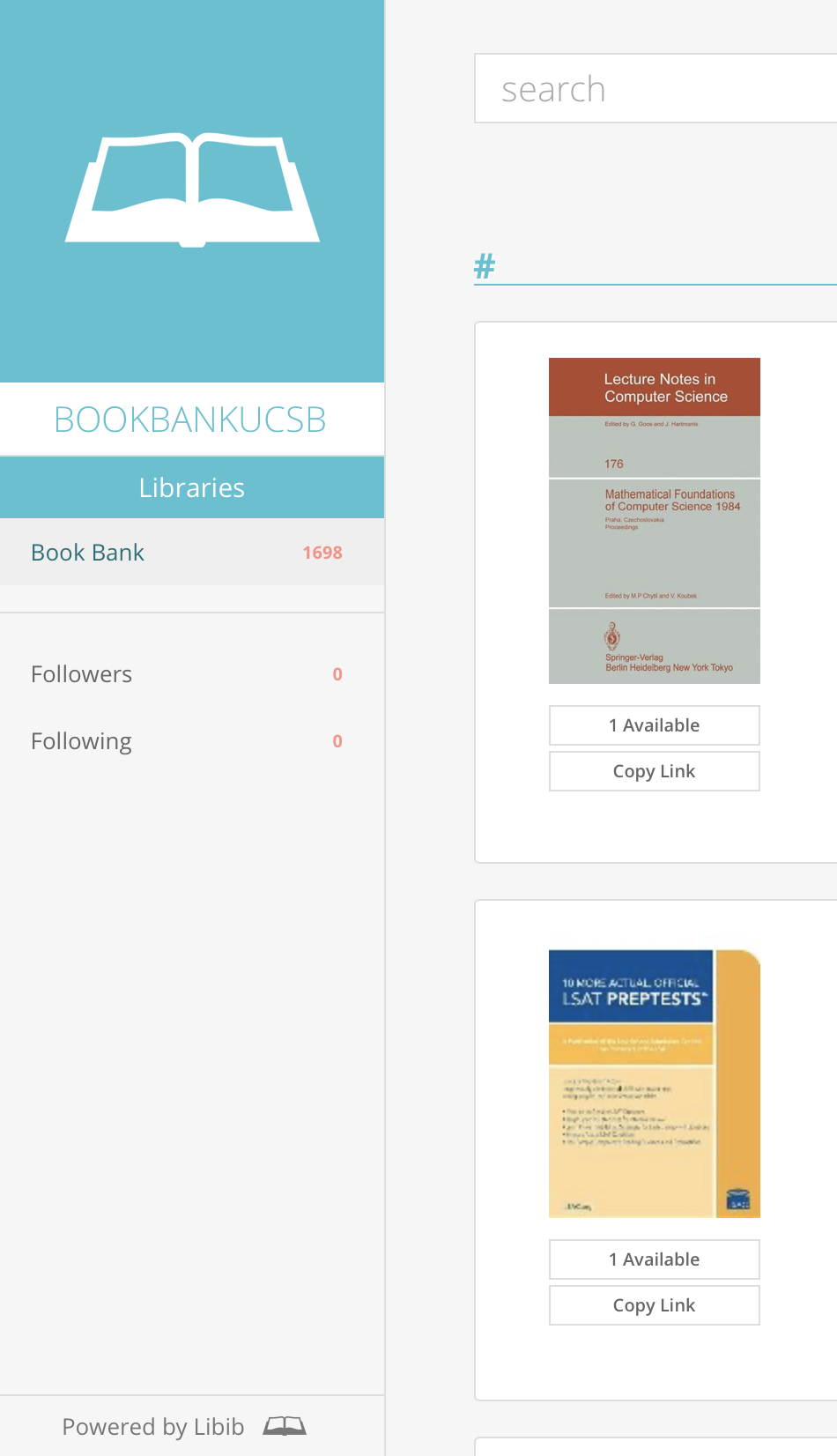 The Book Bank initially operated only using textbooks donated by students. Although now the Book Bank buys textbooks every quarter, we always welcome and encourage donations. All donations must be currently used by a UCSB class and the most current edition of the textbook.
The Book Bank is unable to purchase textbooks from students, however, the Book Bank can give out community service hours to students for each book and supply donated. If you would like to donate, please visit us at the AS Annex located behind Storke Tower or contact us to receive more information about community service hours.
Most frequent questions and answers
Every quarter we buy textbooks and materials based on requests from students that aren't able to find their materials on our catalog. Please fill out our request form here. Please note, if the form is closed than we are not accepting requests. You will be notified should we purchase your requested materials.
All rentals are due at the end of the quarter (preferably whenever you don't need it anymore so we can prepare for next quarter). Our system also automatically sends emails about due dates.
The first couple weeks of the quarter, the Book Bank tries to open everyday to accommodate as many students as possible. We send campus wide emails with our updated hours each quarter. Visit our Contact Us page to see our current updated hours.
The Book Bank summer hours changes from year to year. Visit our Contact Us page or reach out to us to see our current updated hours.
The Book Bank is going to be provided access codes for different classes beginning Fall 2020. Please fill out our Key Access request form. These will be in limited supplies until funds run out and will be given out on a first come first serve basis. Please click here to fill out our Online Class Access Code Request Form. Please note, if the form is closed then we are no longer accepting requests.
Every year the Book Bank accepts applications for members to be a part of the Executive Board. Applications typically open during Spring Quarter and we will post the applications in the Announcements page. Feel free to reach out to us for further information. The Book Bank also offers paid positions and these are posted on Handshake as positions open.
Reach out to us using our Contact Us form or feel free to email us to collaborate.